How to use Wired-Marker
First of all, please display Wired-Marker original sidebar.
Select "Wired-Marker" from Firefox menu.
Windows7 / WindowsVista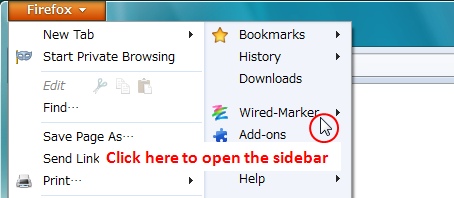 WindowsXp / Firefox 3.6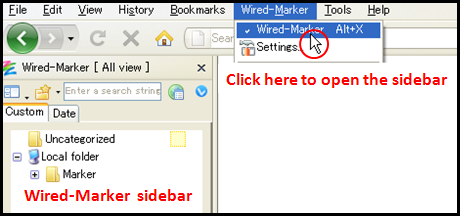 With Wired-Marker, you can easily highlight by drag & drop.

For more information, please refer to "Begin using" of the tutorial pages.
Wired-Marker supports users to research on Web. The latest version of Wired-Marker becomes 3.6 and it includes new features!
Have you ever experienced the followings?
If I mark long texts, it will be difficult to reread the highlighted texts...
I have marked many texts, but it's too much work to organize...
I want to save important sentences on pdf...
The Wired-Marker's new features will solve these problems! Especially the new method for registering markers and the list view function works effectively.
Advanced method for registering markers
The method for registering markers has been renewed!



Items registered as marker information
| | | | | |
| --- | --- | --- | --- | --- |
| <Former method> | Marker title: | Selected text | Note: | None |
| <New method> | Marker title: | Title of page | Note: | Selected text |
When highlighting, selected text is registered not as title but as note. This solves the problem of having such a long title when highlighting a long text.
Furthermore, the dialog box will pop up when highlighting on the new version. With this dialog box, you can now edit the title and note(marker information) before highlighting the selected area. It enables you to edit the marker information on the spot so it will be easier to reread.

Edit marker information before registering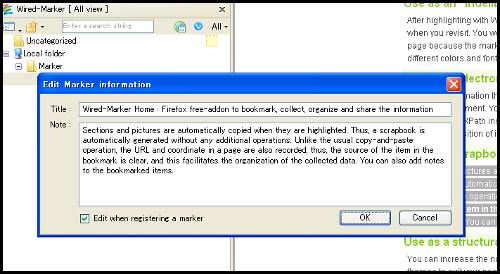 Users can change items that are registered as marker information.



The setting screen of registration items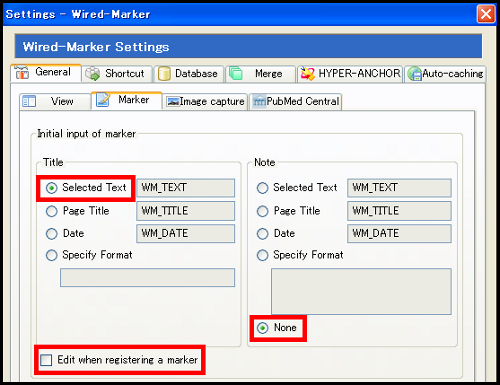 If you wish to restore the registration method to the former method, please change settings as below. >
1) Open the Wired-Marker setting screen by selecting "Wired-Marker" -> "Settings" from Firefox menu.
2) Select the "Marker" tab in the "General" tab.
3) Select "Selected Text" at the "Title" item in the "Initial input of marker" section, and select "None" at the "Note" item. Then uncheck "Edit when registering a marker".
The list view function makes it easier to organize markers
This function creates a list of markers existing in a folder. On the list, you can copy markers to other folders and edit or delete markers easily on-the-spot.


Easy-to-see list of markers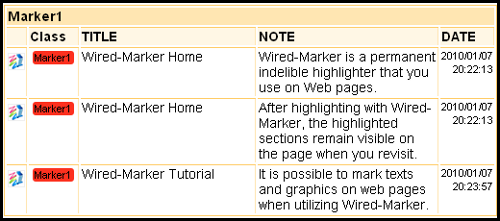 Title and Note are editable on list


Copying markers to other folders by drag & drop


Displaying list by right-clicking on a folder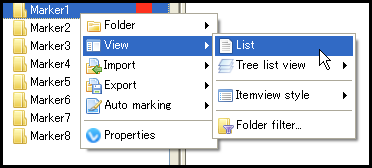 In the new method for registering marker information, the title of web page will be registered as a marker title and the marked text as a note. In this way, you can read the long highlighted text easier on the list. Since it is clear to know where the marker comes from on the web pages, you can summarize information easily.

With both the new registration method and the list view, organizing and summarizing a lot of markers will become smoother.
Markers will be categorized automatically by date
Registered markers will be categorized automatically by date. This helps users to search registered markers and to organize markers faster.



With the list view, you can confirm the contents right away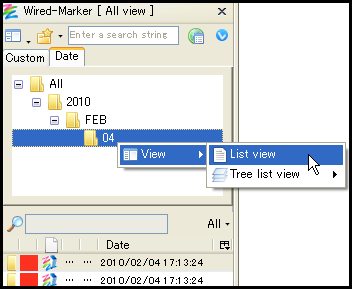 (* It is available when the sidebar layout is "up and down" or "right and left".)
Supporting pdf
It is not possible to highlight, but you can extract sentences from pdf and go back to that page later.



You can now save important sentences from pdf also!


(* The installation of pdf plugin is required.)
Further features
It is possible to highlight on dynamic web pages
You can mark on web pages generated dynamically by Ajax.
Simple interface
Context menu of the folder are simpler and clearer.



The improved interface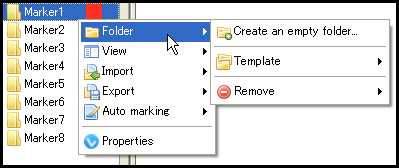 For more information, please refer to the tutorial web page.