How to install
This section explains the installation procedure of Wired-Marker on Firefox.
Installation of Firefox
Wired-Marker runs only on Firefox 2.0 - 10.

Firefox is free web browser and you can download from Mozilla.

Please refer to the Mozilla web site about how to install Firefox on your computer.

Installation of Wired-Marker
You can download Wired-Marker from the Firefox add-ons web site.

Please open the Wired-Marker add-on web page in the Firefox add-ons web site using Firefox.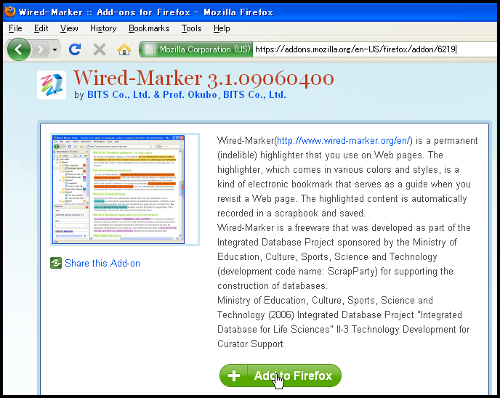 Please click "Add to Firefox".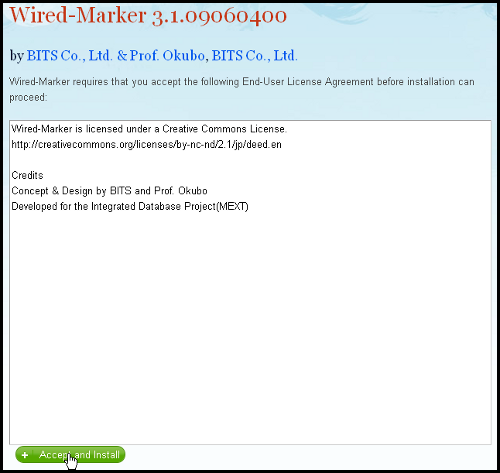 You can see the Wired-Marker End User License Agreement, please check the license agreement and click "Accept and Install".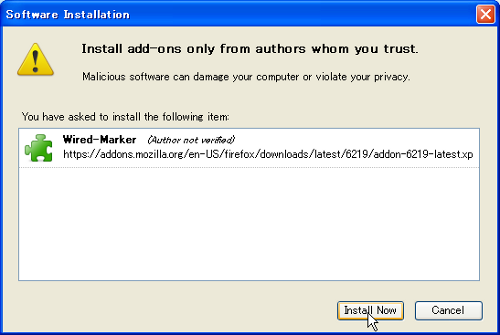 You can see the "Software Installation" dialog box, click "Install Now".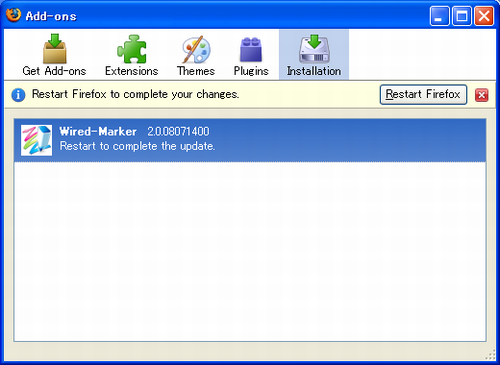 The installation of Wired-Marker will process and the message "Restart Firefox to complete your changes." will be displayed. If you need some operation before restarting Firefox, please finish the operation and click "Restart Firefox".

Latest version of Wired-Marker
In the Firefox Add-ons web site, it takes certain time for the published version to be replaced to the latest version. If you'd like to install the latest version of Wired-Marker, please install from the Wired-Marker web site.

First, please display the Wired-Marker original sidebar in order to use Wired-Marker.
After installation is completed, "Wired-Marker" is added to the Firefox menu.
Windows7 / WindowsVista
WindowsXp / Firefox 3.6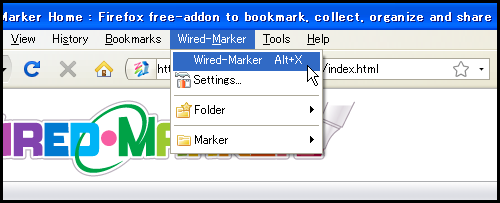 Please select "Wired-Marker" from menu, or press shortcut key (Alt + X) so that you can see the Wired-Marker sidebar.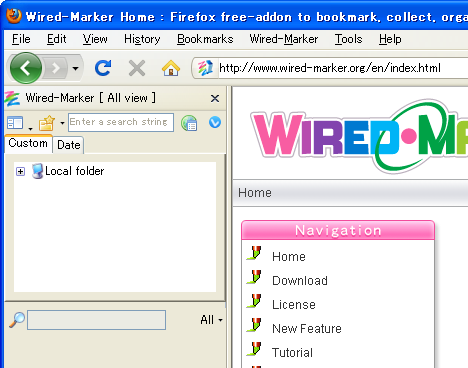 The dialog box to select the context menu layout will be displayed at first activate. Please select "Standard Mode" in normal use.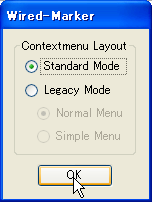 The activation is complete, and you can start to use Wired-Marker.

Hide menu ( WindowsXp / Firefox 3.6 )
On WindowsXp or Firefox 3.6, you can hide The "Wired-Marker" menu on the Firefox top menu. Please refer to "Organize the appearance" for the way to hide the menu.